Ken's Island Carpet Showroom Tour!
Get a virtual tour of the showroom that has won 'Best of Newport' for six straight years! In this 8-minute video, we take you through our huge carpet, hardwood, tile, and luxury vinyl selection. You'll also meet some familiar faces from our team along the way. Ken ends the video by talking about how his father has influenced the way he's done business over the years.
Hi, I'm Ken Fain from Island Carpet, Tile & Hardwoods. I'm here in front of our store. We established this almost 17 years ago. For over 50 years, this location has been in my family as a carpet store. Now, we're more than carpet. To showcase that, we put 9" X 9" cement-look tiles on both sides of the entrance. We're about tiles, we're about hardwood, we're about everything. If it's something to do with floors, we probably sell it.

2.) Control Central (Featuring Abby Goodridge!)
Welcome to our central office area. I think of this as 'control central.' The one who is really in control is Abby Goodridge! Abby is the newest member of our team.

We're really serious right now about contact tracing so we're going to get all of your information on a slip and then we're gonna put it in this fishbowl. So once a week, on Mondays, we draw a name at random from the fishbowl, and whoever is the lucky winner gets a $100 discount coupon for use on a purchase in the store.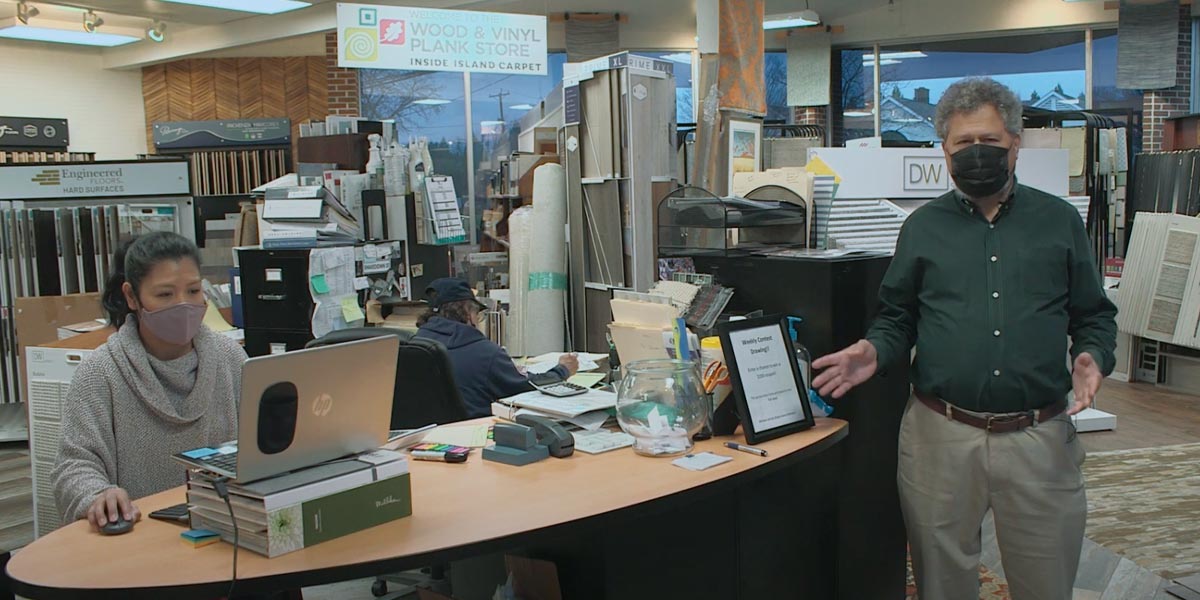 Ken Fain stands in the central office area next to Abby Goodridge. Abby has been an integral part of the team at Island Carpet.
The next thing our prospective client sees as they walk in, if they start on the left, is our stone selection. We have two rotating stone displays showing 48 different types of stone floors, walls, and backsplash materials. Just past our stone, we've got an English tile selection. The fanciest mosaic tile I have in the store by 'Original Style.' It's an English company. The stuff is beautiful.
Welcome to our main tile room. For the first 30 years that this building was here, this was a storage room. Later it was converted to an office. Well, we needed more room for our tile! So we knocked down this whole wall, we put tile on the floor, and as you can see, it's now filled with tile samples.

Within the tile room, I wanted to show you this custom-made fixture. It holds hundreds upon hundreds of mosaic tile samples. For customers who are looking for something different, all you have to do is flip through our samples.

We've fit as much tile into here as possible. In addition to the mosaic fixture, we have six different swing racks of tile, and we've also hung up tile on the walls! Everywhere you look, there's more tile for you to see.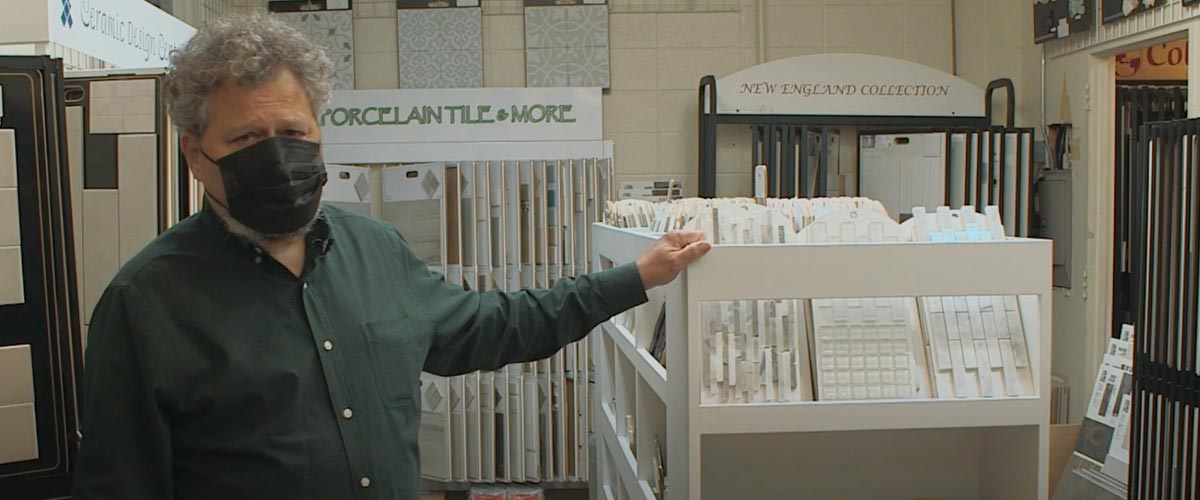 Ken Fain points out our custom-made fixture that is filled with mosaic tile samples. In the background, you can see three of the six tile racks in the room.

5.) High-End Carpet Hallway & Commercial Carpets
As we loop back to the main area of the store, I wanted to point out our high-end carpet displays that are on either side as you walk through. We've got brands like Rosecore, Couristan, Kaleen, and more. At the end of the hallway, you'll come to our commercial carpets: One display from Mohawk and one from Engineered Floors.

6.) Our Wool Department (Featuring Two Sheep!)
Welcome to our wool department. First, I want to point out the life-like sheep next to me. The kids love these sheep because while their parents are shopping for flooring I say 'you can come over and pet the sheep' and it's a lot of fun.

Right at the front of our wool department, we have the Godfrey Hirst New Zealand wool display. That leads us into our designer area. We have a lot of wool carpet here. We're very invested in Stanton Carpet. We also have our sisal carpets here from Fibreworks. Finally, we also have two major displays of our major carpet lines, which are great if you're interested in special colors and special shades.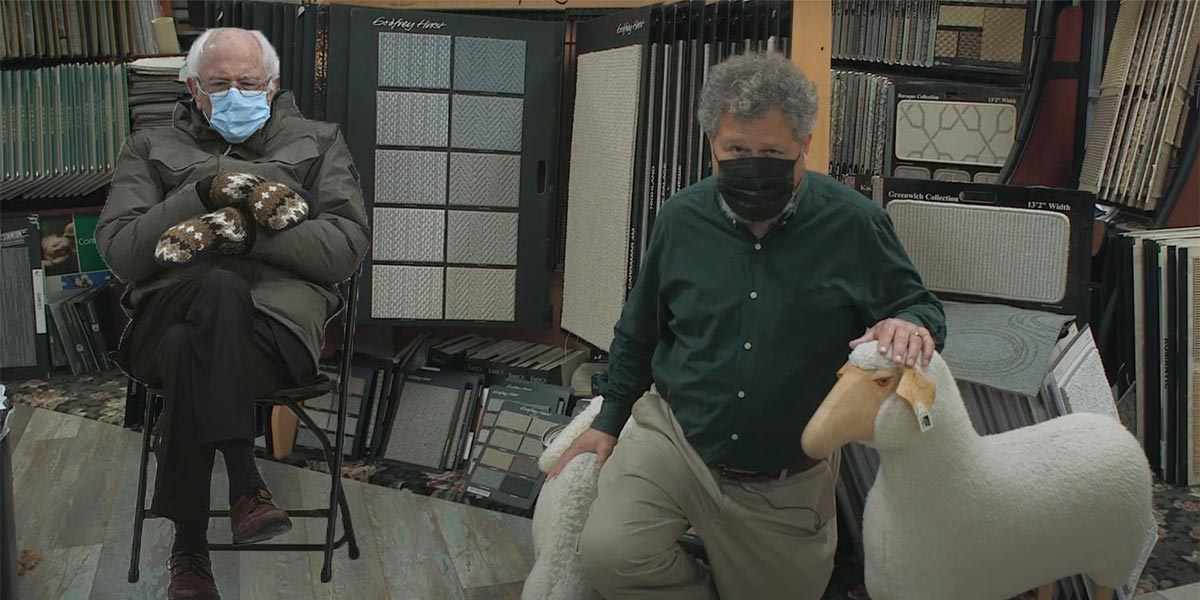 Ken kneels down next the two life-like sheep mentioned above. On our Facebook page, we Photoshopped in Bernie Sanders and took part in the well-known meme.

7.) Our Luxury Vinyl Plank Selection
Next to our wool department are some of our best-selling luxury vinyl plank products. You'll see them all stacked here around the outside. Believe it or not, luxury vinyl plank is the hottest product you'll find in the business. It's even surpassing wood! We have a huge selection, we have even more than is displayed inside of our wood department.
Follow me into our wood department. Most of what you see here is engineered hardwood. Why? Because it's the best-looking, most fashion-forward hardwood there is.

We have many wood and luxury vinyl plank samples stored in this cubby area. We're very much into products by Provenza. Most of the racks on this adjacent wall are Provenza hardwood. But we have a rack nearby that is Provenza luxury vinyl plank. Basically, we have a style, and a color, and a species, and a texture for everybody.

I can't leave my wood department without talking about my pride and joy wood planks! They have a worn look that comes in a variety of colors, including red, white, and blue. I just love it because it's unusual and it's different. And that's an important aspect of what we do at Island Carpet.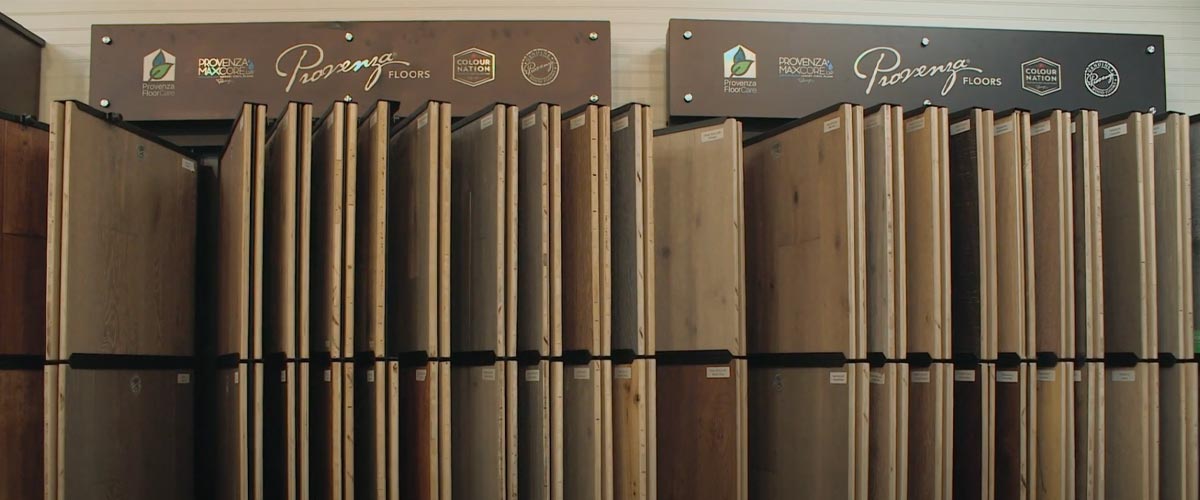 Here are two of our wood racks, both from Provenza.

9.) Did Somebody Say More Carpet?
We're pretty close to the end of our tour as we move back towards the front of our store. This is where most of our carpet displays are. We have some that are very reasonably priced like the Dixie Home line. We have beautiful patterns from Milliken. We carry the full Stanton line. Here's one of the first carpet displays that clients see when they come in the door. It's our new DW Select solution-dyed carpet line. The best stain proctection system. I've made a video where I put on my lab coat and show you the benefits of solution-dyed carpet, which you can see below.



10.) A Special Appearance from Greg (Co-Owner and, Unfortunately, a Yankees Fan)
He's not going to like this, but I wanted to introduce my business partner, Greg. We've been together for almost 30 years. He always wears New York Yankees clothing, and he seems proud about it. We've never let that come between us. Somehow, we've been able to keep our working relationship all these years despite our rivalry.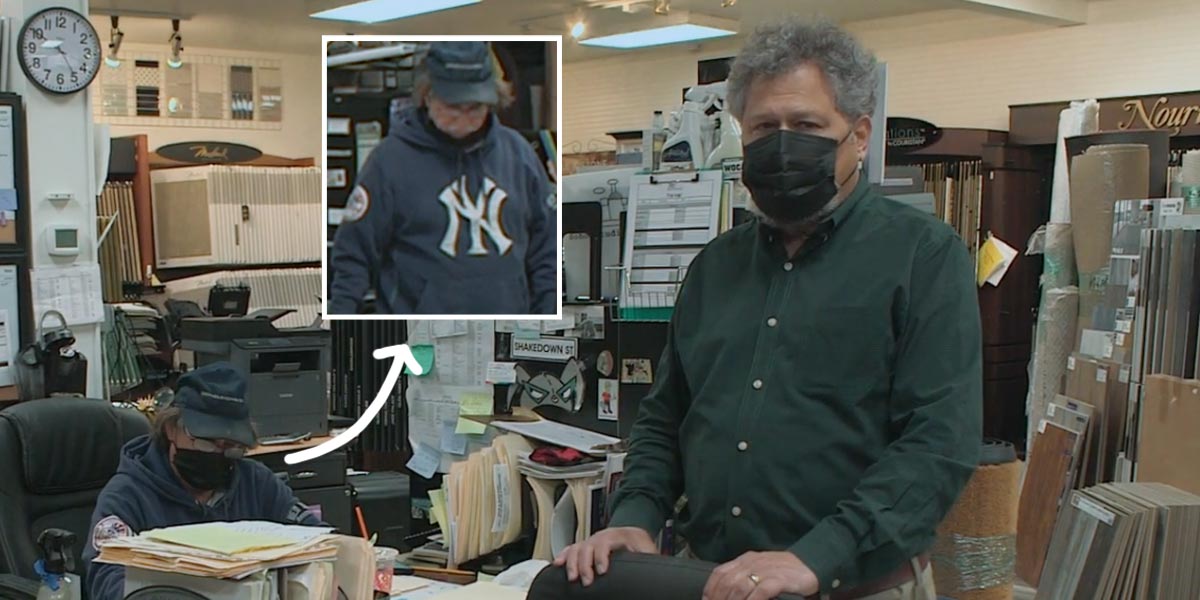 Ken Fain introduces his business partner Greg. In the photo, we have evidence of Greg's Yankees attire.

11.) Ken Talks About His Father & Gives Final Thoughts
I wanted to show you my desk. This is where I sit facing the door. I get to see all the clients coming in and eavesdrop on everything that happens.

This is a portrait of my dad. He was the one who brought me into the business and taught me. Every day I can look at this portrait. He's pointing at me, and that way I know I can't slack off. I actually have to make an effort and do a good job.

That's it! That's all. We're on our way out of the store. You've had the whole tour of Island Carpet, Tile & Hardwoods. Thanks for joining us!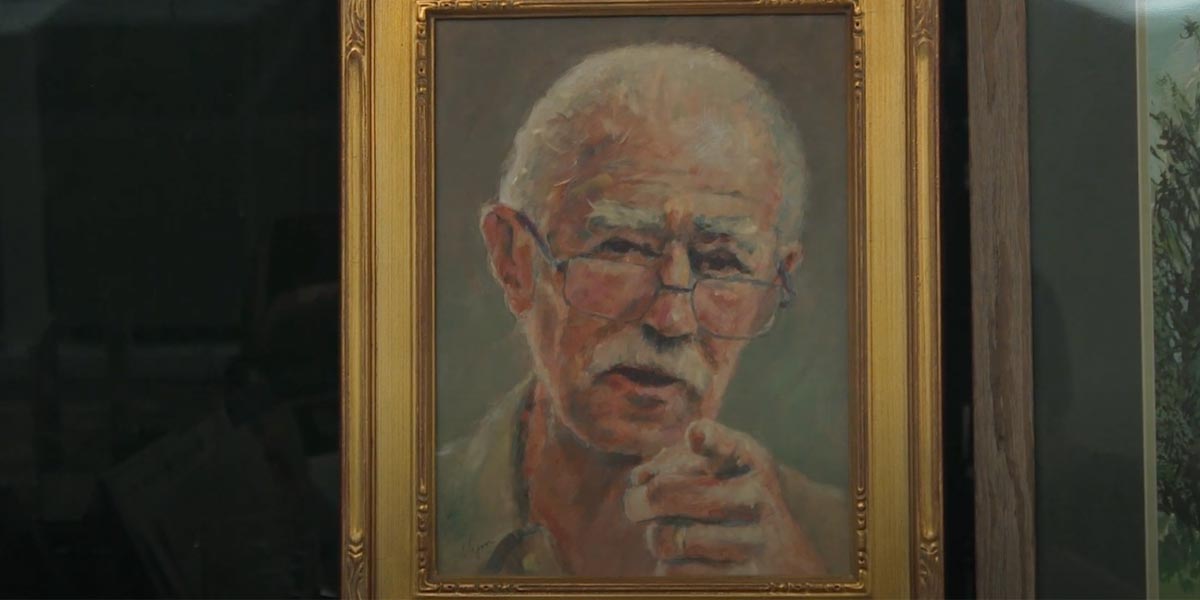 Here is the portrait of Ken Fain's father, which sits above Ken's desk.