3 Reasons to Get Your New Area Rug from Broadloom Carpet
Shopping for area rugs used to be limiting. But thanks to broadloom carpet, you can choose an area rug that fits the way you live.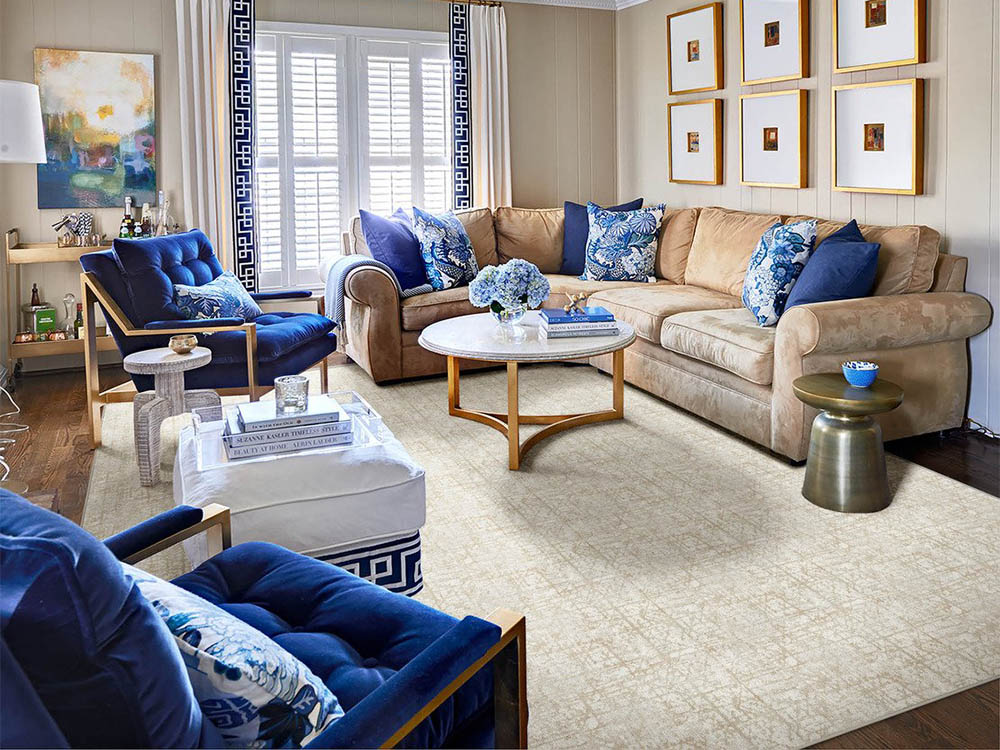 How shopping for area rugs has changed over the years:
Shopping for area rugs used to be a one-size-fits-all experience, with only a few select sizes and styles available at a given store. The problem is that there are virtually unlimited room setups depending on the dimensions of the space and the size of the furniture in the home.
Thankfully, at Island Carpet, you can choose an area rug that fits the way you live. Our consultants will come to your home to do a free custom measurement. Our installers will then cut broadloom carpet to fit your room, and then professionally bind the product for you without breaking the bank.
Here are 3 reasons for Rhode Islanders to choose custom-cut broadloom carpet, rather than a mass-produced area rug.
1.) You want the rug to complement carpet installed in an adjacent room.
Wall-to-wall carpets are great in bedrooms. But in adjacent rooms, you may want the durability of a hard-surface product such as LVT, engineered wood or tile. If this is the case, you'll most likely need an area rug to lay on top.
O
ur designers will be happy to work with you to select a style that complements carpet you have in an adjacent room. And selecting broadloom carpet rather than pre-made area rugs will give you many more color options to choose from. Which brings us to our second reason...
2.) You want more choices.
One of the biggest downsides to buying a pre-cut area rug is that you'll only have a couple of styles to choose from. On the other hand, Island Carpet has thousands of styles of broadloom carpets in our showroom. So whether you're looking for beautifully patterned wool, or something that is budget-friendly and stain-resistant, Island Carpet will have no trouble finding the perfect product for you.
You'll also have much more flexibility in terms of size. Area rugs normally come in a few select sizes, such as 4'x6', 8'x'10' or 10'x'12'. But with broadloom carpet, we can easily custom-cut and bind the product for you – meaning that we can cut around corners of the room and take into account the furniture that you already have set up in your home.
3.) It will cost less than you think!
Because of the increased customizability that broadloom has to offer, you might think that it is almost always the more expensive option. But this isn't necessarily the case.
If price is a sole objective, then scooping up a cheap, on-sale area rug may be the way to go. Keep in mind, however, that better quality area rugs can range from at least a few hundred dollars to more than $1,000.
Broadloom products, on the other hand, normally come in 12', 13' and 15' widths and are sold by the square foot. Which means you have a number of price options to choose from.
Shopping for area rugs can be a frustrating experience due to a lack of size and style options. Our team at Island Carpet has helped hundreds of Aquidneck Island customers get a custom-sized solution from one of our thousands of beautiful broadloom products. Going with broadloom also allows customers to match wall-to-wall carpets in other parts of their home, without having to break the bank.